It's that time of year again! Christmas time means time for celebrations, time for togetherness, time for giving, and time to start snapping pics and scouring Shutterfly for your favorite card to send out to friends and family! I LOVE collecting and displaying my Christmas cards in our foyer each year. I do treasure each of the photo cards that we receive & keep I most of them displayed on my refrigerator well into the new year.
As in years past, I've been asked by Shutterfly to review their new
Holiday Card Collection
and
photo gifts
and I'm more than happy to do so (hey, they give back to me, so it's the least I can do!)! I've ordered from them for the past three Christmases for both our cards & our calendar gifts and have been more than pleased with the result, particularly the 5x7 stationery cards! They also have some new card options for their 2013 collection, including tri-fold 5x7 styles, as well as the ability to customize the back of the cards with various designs. Their new styles are so varied that you're sure to find something that suits your fancy, including contemporary, whimsy, classic, merry & bright, religious, & photo basics.
I love the way their site is set up, because I can easily navigate and view only the type of cards that I'm searching for! I can select the size (5x7) and also choose the number of photos that I would like to include. Christmas card selection this year is going to be particularly challenging, however. Usually, I like to find one with four photos so that I can include one of each girl individually, as well as a photo of them together (that's the challenging part!!!), and then a family photo, but my girls just don't stop moving, so that does make things somewhat difficult!
I'm a big fan of the solid-color backgrounds that really let the photos stand out...now to find the perfect photos...let me show you a few of my favorites (but keep reading through to get to the giveaway info!)!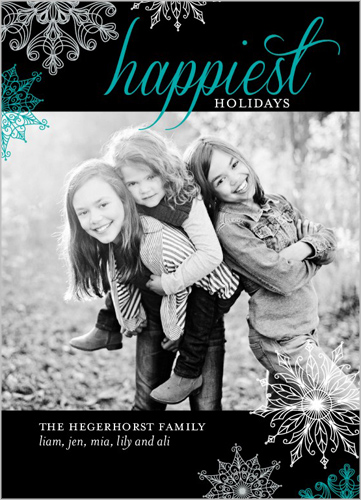 This particular card has color options to add even more pizazz!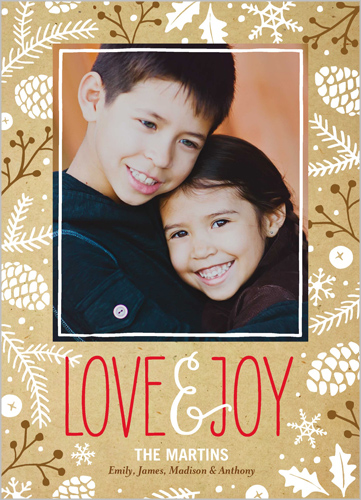 This card has a very "natural" feel to it & would really let the faces in the photo stand out!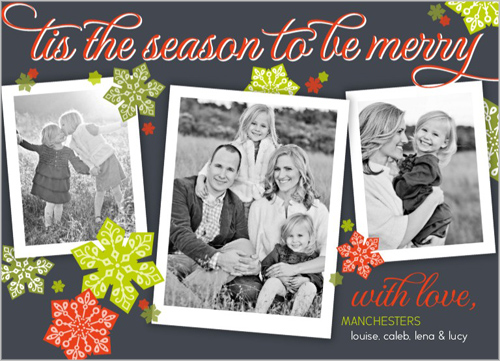 I love the grey with the black and white pics!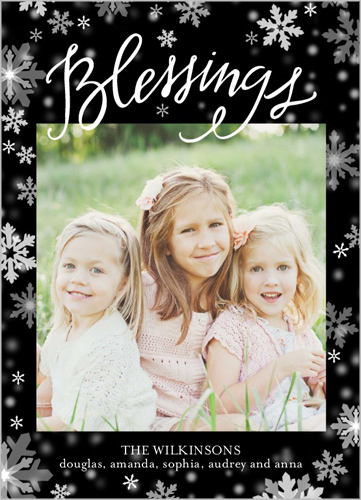 I love how the black makes the photo POP on this card!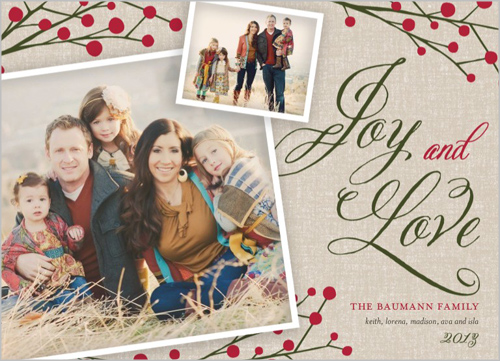 I love the "country" feel of this one with the berries and branches, but the classy look of the script.
Obviously I had a hard time choosing just a few of my favorites to show you! There's just so much to love! The newest designs just seem so sleek and contemporary, but still timeless and traditional at the same time.
Ok, and now here's the part for YOU! The contest! Shutterfly has graciously offered to give one of my awesome readers a code for $50 off your total stationery & gift order plus free shipping! To enter, all you have to do is click through to the
Shutterfly page
and comment with the name of your favorite holiday card! The contest will end on Tuesday, November 26th & I'll let the birthday girl (Haddy!) choose the winner that day before bedtime! Good luck & happy card-hunting!